Stockholm live: Press conference with Lys Assia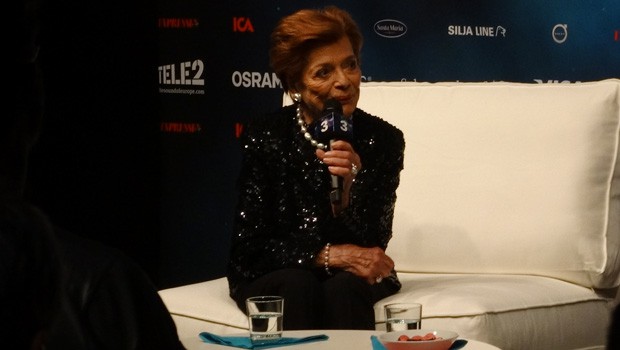 Eurovision's grand old lady, the wonderful Lys Assia who won the very first Eurovision Song Contest back in 1956 for Switzerland, gave an interview at the press conference on Saturday before the Grand Final. We listened to the interview and questions from the audience and Lys' answers to them. She really enjoys the spirit of the Eurovision Song Contest and has often been seen attending the event, and so was the case also this year.
Lys explained that the spirit and idea of the Eurovision Song Contest is still the same as it used to be in its first years – 'come together', to know the different cultures of each country. Lys is generally very excited about this year's contest, with all the lightning and effects, and names it the best show in Europe (we agree, of course!). Today's contest is unique and can't be repeated – especially the live atmosphere in the arena. It is of course a huge contrast to her own participation in the 50s, which was all about singing. In those days, she couldn't have imagined that the contest would still be there after 61 years and just get bigger and have so many more countries, which get good publicity for their participation. They reason to love Eurovision Song Contest, according to Lys, as that people are so happy about it, and get together like one big family.
Lys was asked if she remembers her own feelings when she represented her country, Switzerland, for the first time. She was already a big name in the US and parts of Europe at that point. She was still nervous, but had a good backing, a good orchestra and a fantastic audience. Lys doesn't rate her participation in the contest as very important for her career, but she is still very proud of it. She did not get a trophy when winning a contest, only much later on she received a medal for her win.
Lys was also asked which song in the history of the Eurovision Song Contest, besides her own songs she likes the most. She couldn't name any song as her particular favourite, but said it's quite a list. That's the feeling that many of us Eurovision fans can share with her! She could, however, name the Olsen Brothers among her favourite Eurovision artists.
In 1956, according to the language rule, Switzerland was able to choose a song in any of the four official languages of the country. Her winning song 'Refrain' was in French and that's the language she's most used in her singing career. She described her song as sentimental and nostalgic, in contrast to today's more commercial songs. "But that is okay, it's a trend", she said.
Lys Assia has a foundation to help handicapped people and orphans or children who need medical operations but whose parents can't afford it. The foundation also helps animals, as Lys really loves animals – at one point she had seven dogs! She's really happy about her successful foundation.
Lys was asked if she has any plans trying to enter the Eurovision Song Contest one more time, as she had entered the Swiss national selection in 2011 ('C'était ma vie') and 2012 ('All in your head'), respectively. "Why not, my voice is okay and I'm quite good-looking", she replied laughing. She would be ready to sing a modern song with some lovely effects. At the end of the interview, she sang a bit of her evergreen 'Refrain'. She also has a great sense of humour. "If anyone wants to marry me, why not!". We wish Lys, as being one of the true Eurovision fans, still many great years to come!