Stockholm live: G.E.E. in Eurovision Village (Friday Night Live)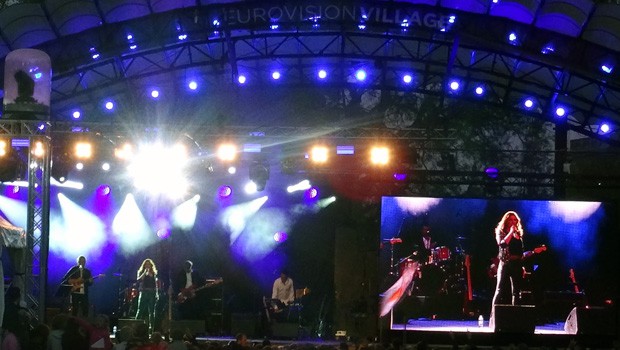 Eurovision Village celebrated the Friday night with Swedish music – hits from the Eurovision Song Contest, Melodifestivalen and by the Swedish Polar Music Prize winner and musical wonder Max Martin. He has written songs for several international stars such as Britney Spears, Backstreet Boys and NSYNC. There were dancers and a live band on stage as well!
The presenter of the evening was Martin Stenmarck, who opened the show by performing a medley of 'Las Vegas', his entry for Sweden in the Eurovision Song Contest in 2005, as well as his Melodifestivalen 2014 entry 'När änglarna går hem'.
The biggest highlight of the evening was the fantastic Magnus Carlsson, a former member of the groups Barbados and Alcazar, now a solo singer with several great pop hits during the years. Magnus performed his Melodifestivalen entry from 2015, 'Möt mig i Gamla Stan', a song that couldn't be a better choice for the audience that night, as Euroclub and Euro Fan Café were located in Stockholm's "old city" Gamla Stan!
Magnus also performed a medley of the Barbados hits 'Världen utanför' (Melodifestivalen 2002) and 'Kom hem' (from 2000), and the hit 'That's the way it is' written by the Swedish songwriters for another international and Eurovision star Celine Dion. There was also a duet by Magnus and Martin Stenmarck – they performed 'Crazy', the Max Martin song for Britney Spears.
During the evening we saw performances by Mollie Lindén, a young singer who came 2nd in the Swedish Idol in 2014, and the boyband Apollo 5. Glitter and glamour was brought onto stage by the disco queens Afro-Dite, who performed both their Swedish Eurovision entry from 2002, 'Never let it go', and their Melodifestivalen entry from 2012, 'The boy can dance'.
The night ended with a big party with ABBA hits: 'Dancing queen' by Afro-Dite, 'Does your mother know' by Magnus Carlsson, 'Mamma mia' by Mollie Lindén, 'So long' by Martin Stenmarck and as a closing number, ABBA's 1974 winning song 'Waterloo' by all the artists of the evening.