The Eurovision Cruise – a night full of glitter and drama!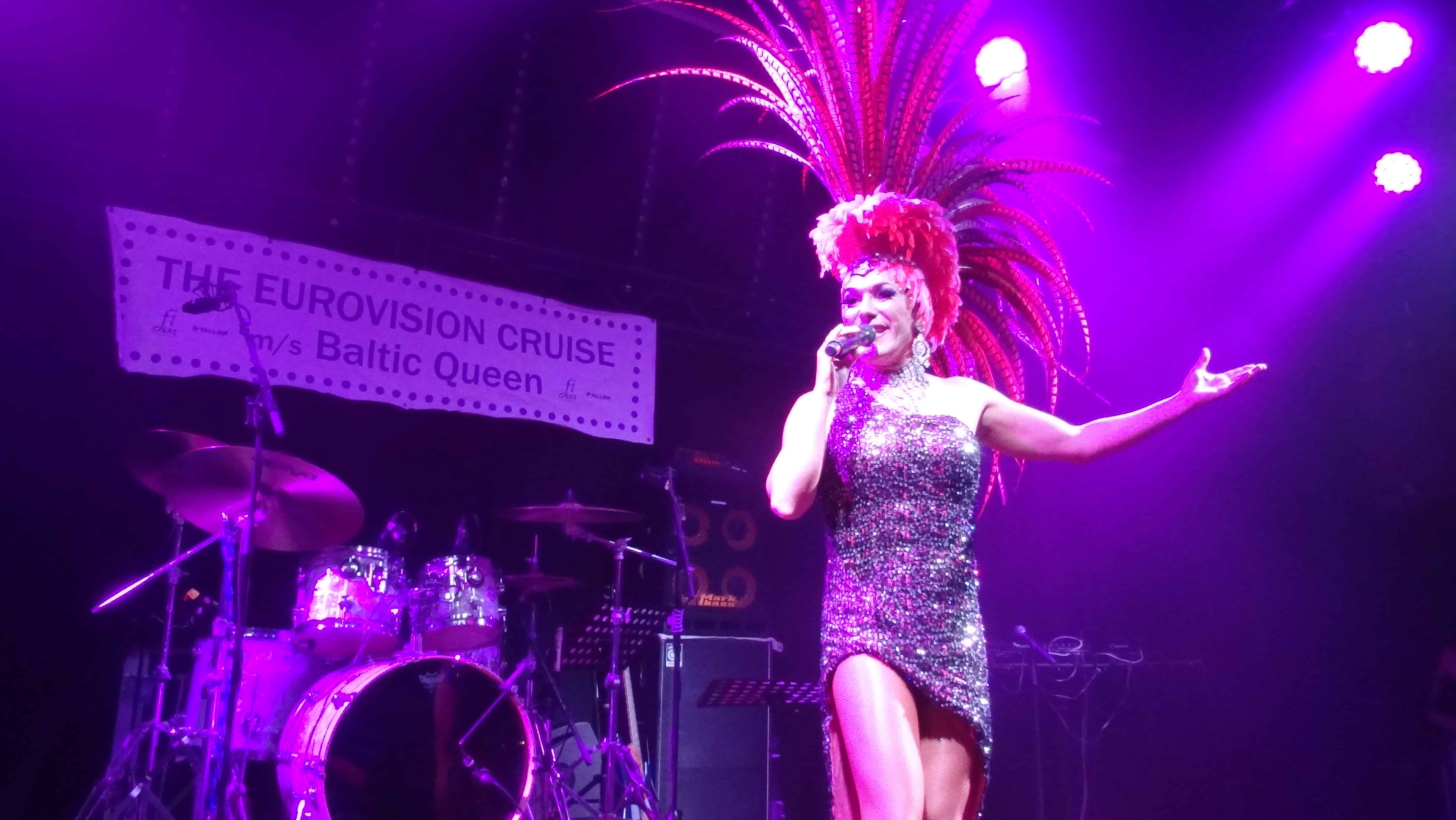 I'm your drama queen tonight
Everything's gonna be alright
When I get on the stage tonight
The Eurovision Cruise is an annual event organized by Euroviisuklubi OGAE Finland and the cruise company Tallink Silja. The cruise takes place on M/S Baltic Queen sailing from Helsinki to Tallinn and back during 23 hours. The ship was once again full of Eurovision stars and hundreds of enthusiastic fans from over 30 countries. The cruise, arranged every September since 2010, has grown to be one of the biggest Eurovision-related events outside of the national preselections and the contest itself. But who was the biggest drama queen of the night of 3rd of September this year?
Pre-cruise drama
The drama started already before the cruise even took place. One of artists booked for the evening was Nanne Grönvall, a fan favourite who has participated in Melodifestivalen for ten times in total. In 1996, she represented Sweden in the ESC with 'Den vilda' as part of the group One More Time. Due to illness, Nanne unfortunately had to cancel her attendance. Another Swedish artist, Isa, who is known for participating in Melodifestivalen 2015 and 2016, was booked instead of Nanne. Only a few days before the cruise it was announced that Isa could not perform on the cruise either due to a double-booking. The replacement artist was an even bigger name for everybody: Loreen! A slight feeling of euphoria was starting to circulate among Eurovision fans.
The cruise was also supposed to have a special Eurovision show by Ylva and Linda Persson (Swedish songwriters) and Thomas Lundin (Finnish tv host, singer and actor), but unfortunately they had to cancel their show as well. We got a group called the Scandinavian Dancers instead, who skillfully sang and danced to a lot of familiar Eurovision tunes.
On it goes – the night with the Drama Queens
Mikael Saari was the first Eurovision artist of the night. He gave the audience a laid-back performance of his both UMK (Uuden Musiikin Kilpailu) entries, 'We should be through' from 2013 and 'On it goes' from 2016. He also surprised us by singing a cover version of Brainstorm's 'My star', the Latvian entry from 2000.
Let the show begin! Who would be more Eurovision than DQ itself? With the real name Peter Andersen, as the drag artist DQ she represented Denmark in 2007 with 'Drama queen'. The contest was then held in Helsinki, and now DQ was back to enjoy all the welcoming fans on the cruise – on her birthday! Not only we heard DQ's own brilliant entry, but also a lot of great Eurovision songs which she performed in lookalike outfits. DQ's interpretations of Emmelie De Forest ('Only teardrops') and Birthe Kjær ('Vi maler byen rød') were amazing and the atmosphere was surely high on the ceiling! DQ not only performed, but was a host of the evening as well.
Yes sir, Eini can boogie!
The Finnish part of the drama was provided by Eini, the true disco queen already since the 70's, when she started her career by covering hits of Baccara.
Eini has participated in the Eurovision preselections twice in Finland: in 1996 with 'Aina sun luonas' ("Always by your side") and now 20 years later, in 2016, with 'Draamaa'. She performed both songs on the cruise and told us that both times, she had ended up seventh! Eini named herself as being the seventh forever, in comparison to another Finnish singer, Saara Aalto, who has always ended up second, both on national preselections and other music contests. Regardless of Eini's placing in UMK this year, she was greeted by a wild audience and true fans.
Donny Montell had been waiting for this night
Another current Eurovision artist on the cruise was Donny Montell (real name: Donatas Montvydas). Donny has represented his country Lithuania twice, in 2012 ('Love is blind') and in 2016 ('I've been waiting for this night'). He performed his both entries with two dynamic male dancers and a very energetic show. He also sang some of his own current hits and the song 'Running fast', which had been his entry to the Lithuanian preselections in 2010.
The ultimate drama: Loreengate?
The last artist of the night, Loreen, was eargerly anticipated by many fans onboard. Her winning entry for Sweden in 2012, 'Euphoria', topped the charts throughout the Europe and is probably the best-known Eurovision hit from the last decade. Loreen participated in Melodifestivalen already in 2011 with 'My heart is refusing me', but then did not proceed to the final from Andra chansen. After her Eurovision victory, Loreen has released several more singles.
Many fans were surprised, when Loreen started her performance with 'Euphoria', surrounded by the blue lights. The whole audience was singing along to the song. The reason for starting with her biggest hit was a disappointment for everyone present: she only performed that one song! Loreen disappearing after just after a few minutes on stage caused a lot of talk and media attention in Finland and Sweden afterwards. According to the cruise programme, she should have performed for 30-40 minutes. We are yet to get an official statement from OGAE Finland and Tallink Silja about what really happened.
The night went on with a Eurovision disco and fans filling the dance floor until the morning dawn.
Chilling out with OGAE-vision
There is a new tradition started this year: the OGAE-vision Song Contest, a Eurovision fans' song contest, which was held in Berlin in June. The two best placed singers performed on the cruise: the winner, Sebastian Calleja from Malta, who sang 'Save your kissed for me' (UK's winning entry from 1976) and 'Golden boy' (the Israeli entry from 2015). Daniel Pereira, who had placed second in the contest, performed 'Rise like a phoenix' (Austria's winning entry from 2014) amongst others.
Eurovision and drag
Who is blue and white and dancing on the stage like crazy? When you're on a Eurovision cruise, it was the drag artists Jukka K (Jukka Kuronen) and Divet (Marko Vainio), well-known for their Eurovision imitations. They even had the courage to imitate the artists who had performed on this very cruise themselves: Eini, Donny Montell and Loreen – all of them with a very authentic-looking choreography. We saw both old classics and new artist imitations, including many from this year's contest, such as Ira Losco, Samra, Hovi Star and the winner of the contest, Jamala. Her song "1944" looked a bit more desperate in the hands of the drag artists than what it was originally!
Needless to say, despite of all the drama, the cruise was a fantastic event and well organized by one of the most active OGAE organizations that currently exist in the Eurovision world. The cruise takes place every year – welcome onboard in 2017!
To translate the lyrics of Eini's 'Draamaa':
Even if you've made mistakes for decades
And a lot has been forgiven
This is now and forever, the same kind of drama!