Kiev: Tre mandlige værter for første gang i Eurovision-historien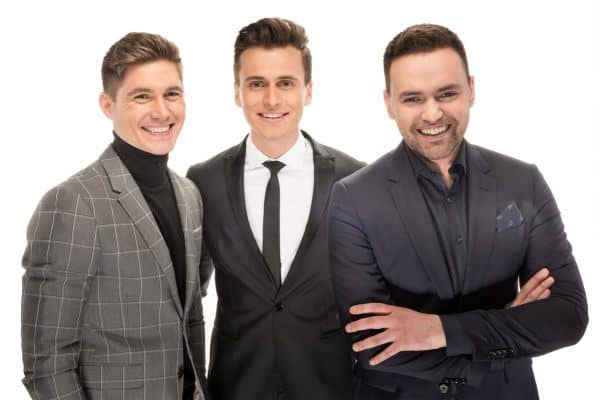 Her til formiddag har ukrainsk TV afsløret navnene på værterne ved årets Eurovision Song Contest. Tre mandlige værter skal føre seerne igennem de 3 shows.
Oleksandr Skichko er en kendt tv-vært med optrædener i shows som Wake Up, Star Way og Sing Like A Star.  Han startede sin karriere i underholdningsbranchen allerede som 15-årig og har været blandt semifinalisterne i Ukraine's Got Talent med sit parodi-nummer.
Volodymyr Ostapchuk er kendt fra underholdningsprogrammet Morning with Ukraine. Han har  desuden haft flere roller som professionel stemme-dubber, bl.a. som Hans i den ukrainske version af Disney's Frozen.
Timur Miroshnychenko har været været på flere ukrainske finaler og begge Junior Eurovision Song Contest afholdt i Kiev. Dertil kommer at har været kommentator på både Eurovision Song Contest, Junior Eurovision Song Contest, Eurovision Dance Contest og Eurovision Young Musicians. I januar var Timur vært på semifinale lodtrækningen forud for Eurovision i Kiev. Sammenlagt har han deltaget i 30 Eurovision projekter i løbet af de 12 år, han har arbejdet med tv.
Tre mandlige værter for første gang i Eurovision-historien
Det er første gang i konkurrencens historie, at der kommer 3 mandlige værter på scenen ved i Eurovision show. Det var dog ikke en rekord, som man gik direkte efter. Valget skyldes bl.a. en god kemi og at de 3 fyre imponerede under castingen, forklarer showproducer Stuart Barlow:
"We did not set out looking for three young men but after being so impressed by them in the castings, we started to develop the idea of having these amazing young guys working together. They have a great chemistry, and its great because it has not been done before at Eurovision".
Jon Ola Sand er ligeledes begejstret for valget af værter:
"We are thrilled at the prospect of having three hosts for this year's contest. This will be the first time that Eurovision has had three male hosts in its sixty-two year history, and Olexandr, Volodymyr, and Timur have a proven track record of combining humour, improvisation, and professionalism in their routines. I'm confident that they will provide much entertainment for viewers in May".
Eurovision Song Contest finder sted den 9., 11. og 13. maj 2017 i Kiev.