Danish Rainbow Awards – AXGIL 2017: Behind the scenes with Patrick Spiegelberg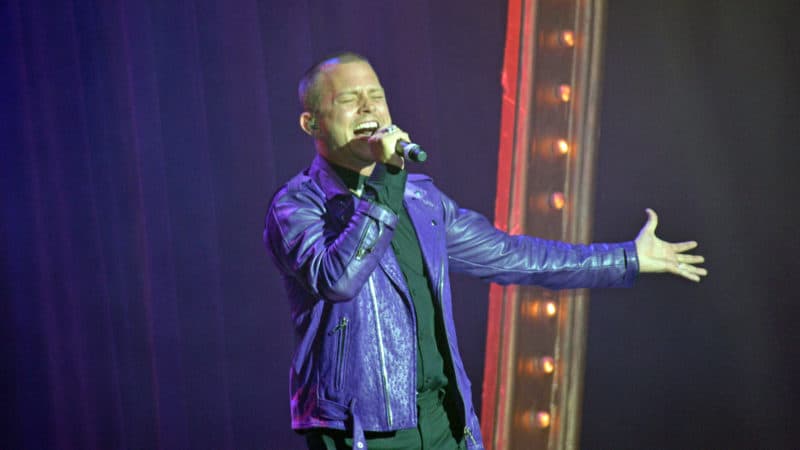 The Danish Rainbow Awards – AXGIL, also known as the Axgil Gay Galla, takes place annually and is now a part of the Copenhagen Winter Pride week. The event has been named after Axel and Eigil Axgil, longtime Danish gay activists, who were the first couple in the world to enter into a registered partnership in 1989.
The purpose of the event is to award the organizations, companies and individuals who are helping to raise awareness, life and strength in Denmark's LGBT community. Eight different prizes were awarded and the candidates were nominated in different categories, such as media, event, sports, film and honorary award.
The Circus Building turned into a cathedral of love
This year the event took place on the 8th February at Wallmans Circus Building in central Copenhagen. Wallmans is known for its dinner shows, so it felt like the perfect place for the colourful and entertaining event. The evening was hosted by Stine Bruun and Martin Knudsen, who were responsible for the artistic direction of the show. They also performed a duet, their brand new single "Grænseløs kærlighed" (Boundless love), dedicated for this event.
Patrick Spiegelberg performed a tribute medley to LGBT legends
The show was packed with fantastic artists, but one of them wasn't mentioned on the programme: Patrick Spiegelberg was a surprise act of the evening. Patrick can be remembered from Dansk Melodi Grand Prix 2014 ("Right by your side", by his stage name Glamboy P) and hosting several events during the past years, such as Copenhagen Pride in 2014 and 2015. His wonderful ballad "Dig og mig mod verden" (You and me against the world) was chosen as the Pride song of Copenhagen Pride 2015.
Good Evening Europe got a unique chance to follow Patrick backstage during the soundcheck and getting ready for the performance – selecting stage outfits and meeting other artists who would perform during the evening, in addition to Patrick's own dancers, the glamorous Manson Sisters. The backstage area was filled with glittery costumes and the atmosphere was very relaxed – you could sense that it was not a contest we were having that evening, it was a celebration for good things we strive for.
Patrick performed a tribute to the many artists that we lost in 2016 and who have had their influence on the LGBT scene during several decades. He performed one song by each artist: "Purple rain", which is one of the signature songs by Prince, "Let's dance" by David Bowie, "You spin me round (like a record)" by Dead or alive (as a tribute to the group's singer Pete Burns) and "Father figure" by George Michael. Patrick felt very honored and proud to sing these songs, and he could undoubtedly perform a great tribute and get the audience singing and dancing along.
Eurovision stars and divas on stage
It didn't come as a huge surprise to the guests that the show also offered many Eurovision references. There were performances by artists who have represented Denmark at the Eurovision Song Contest during the years. Kirsten Siggaard holds one kind of a record for flying the Danish flag on the Eurovision stage three times, each time as a duo with Søren Bundgaard. In 1984 and 1985 the duo called themselves Hot Eyes, and Kirsten performed both of these 80's classics: "Det' lige det" and "Sku' du spørg' fra no'en".
Each artist has spoken up with greetings and a message to the world, which was printed in the hand-out programme. Kirsten's message was "The greatest of them all is love".
The most eye-catching Danish Eurovision star ever is what could be said about DQ (real name: Peter Andersen), who represented Denmark at Eurovision Song Contest 2007 with "Drama queen". The song was of course performed by DQ during the evening, but that was not all! With her brilliant Turn on Tina character, she took the stage by storm with her Tina Turner imitation of "Simply the best".
DQ has always had a warm welcome at various Eurovision events. In September 2016 she performed at the annual Eurovision Cruise arranged by OGAE Finland. DQ has a message to the world about something that we should remember: basically all people regardless of nationality, religion and sexuality are equal.
Bryan Rice has been around in the music scene in Denmark and elsewhere for 12 years and has has many successful hits. He has participated in Dansk Melodi Grand Prix three times. During the show, Bryan performed his 2010 entry "Breathing" and we also heard a world premiere of a brand new song by him called "Warriors". Bryan's message to the world is to live with purpose and intention.
During the gala evening, there were many more artists and groups that made the show very entertaining, including Centralhjørnet, the gay bar which celebrates its 100 years anniversary in 2017 and which now won the honorary award. We heard Eurovision hits and we saw people – men and women – in bridal dresses and we also heard many moving speaches by the people who were awarded for their work in the LGBT world.
Line-up for Danish Rainbow Awards – AXGIL 2017:
Hosts: Stine Bruun, Martin Knudsen
Artists: Patrick Spiegelberg (with The Manson Sisters), Kirsten Siggaard (with Thomas Evers), Bobo Moreno, Bryan Rice, Unlimited/Clara Luna, DQ, Søren Sebber
Wallmans Crew
Centralhjørnet: Torben Rasmussen, Rickey Herskov, Tine Slichting, Laurits Emanuel, Knud Kristensen, Sune Æbelø, Morten Bo, Lotte Holm, Nikolaj Thamdrup, Kenny Hoffland