Saara Aalto's spectacular arena concert was a real pop celebration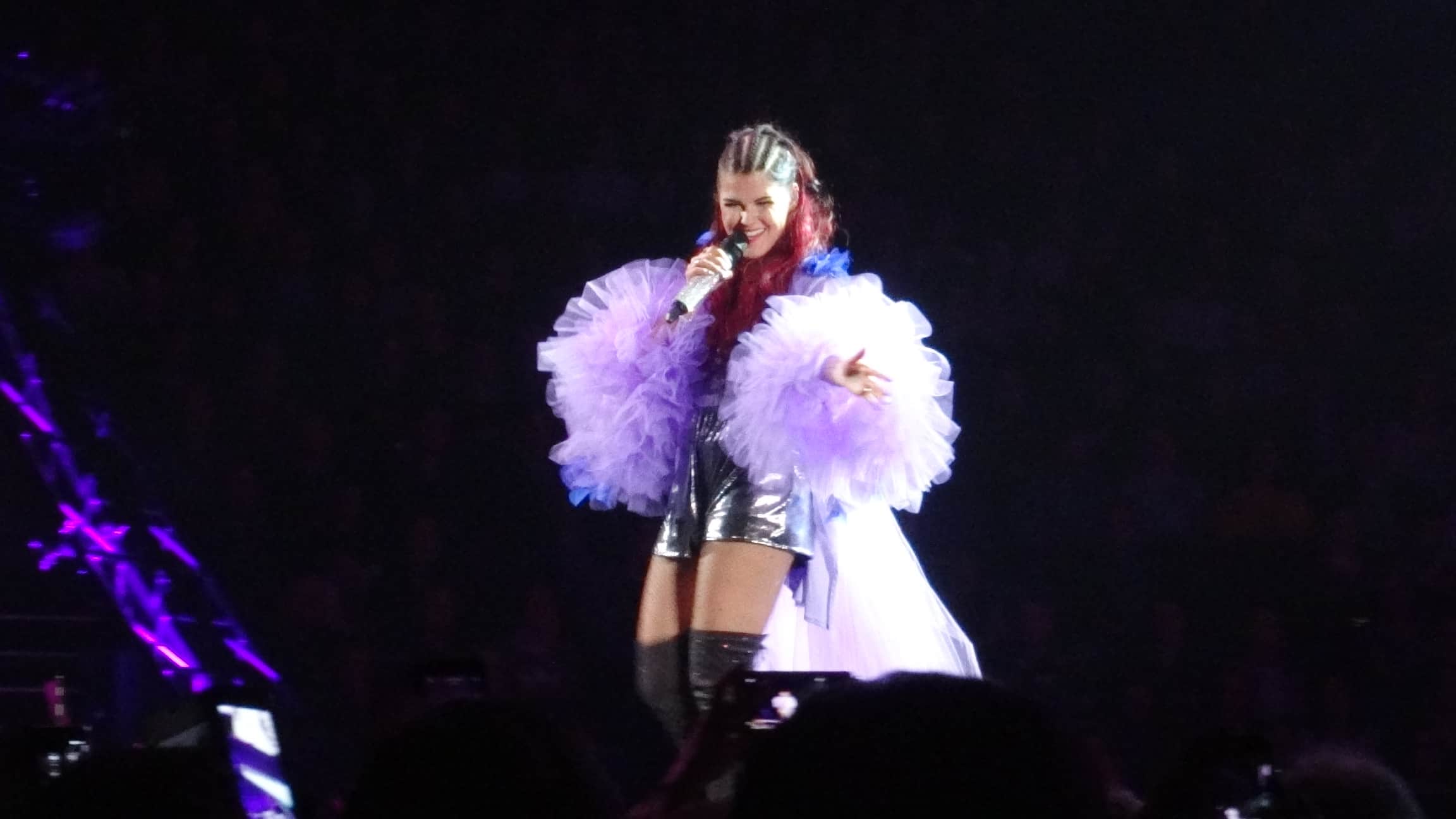 The Finnish singer Saara Aalto has already gained a superstar status with her success in the British X Factor in 2016. On the 15th April 2017, Saara filled the Hartwall Arena in Helsinki with her In my wildest dreams mega show. And what a show it was! Saara entered the arena flying through the air using a cable, accompanied by fairy-like glitter dust. This was once again a great spectacle at the same location where the Eurovision Song Contest 2007 was held.
The practically sold out show was amazing in all aspects: visually it was full of frilly costumes, sequins and diamonds. Saara was backed by dancers, a live band and guest artists, who provided an evening full of entertainment with familiar pop and musical tunes.
Saara made world-famous hits sound like they were her own
Before X Factor, Saara has competed in several singing competitions: in the Finnish Eurovision preselections Uuden musiikin kilpailu (UMK) in 2011 and 2016, as well as in the Finnish Talent and The Voice of Finland.
During the show, she performed both her own songs and the cover versions that many of her fans remember from X Factor, such as "The winner takes it all" by ABBA, "Chandelier" by Sia, "Oh it's so quiet" by Björk and "Bad romance" by Lady Gaga. There's no doubt that Saara is able to sing and perform any music style and hit the highest notes. Although power ballads have become her trademark, she is able to interpret almost any style. She even showed some real chanteuse quality in "Je suis malade".
Opera, pop, ballads and duets
The concert was a clear proof that Saara is not just a regular singer. "This is how it all began", she said as she sat by the piano and started to play. At times Saara's own songs – such as "Can I keep the pictures?" from her 2011 album Blessed with love – remind strongly the melodic tunes composed by Agnetha Fältskog.
Saara also brought guest artists on stage to perform duets with. The winner of X Factor 2017, Saara's rival Matt Terry accompanied her on Sam Smith's Spectre theme "Writings on the wall" as well as on the Queen classic "Bohemian rhapsody". Another guest artist, the Finnish rock musician Michael Monroe had supported Saara ever since she competed in The Voice of Finland in 2012. Also Saara's sister Suvi Aalto and her former colleague and boyfriend Teemu Roivainen entered the stage to perform beautiful duets with her. All the guest artists and Saara's positive way of speaking about believing in your own dreams made the concert feel very warm and personal.
New music on the way
Saara performed one completely new, catchy song during the evening. She has been recording lots of new music after X Factor, but haven't yet decided which song is going to see the light of day as the next single release. It will be exciting to hear Saara's new music in the following months and see how it is welcomed by her fans in different countries across Europe.
Guest artists
Matt Terry (winner of X Factor UK 2017)
Michael Monroe (The Voice of Finland judge)
Teemu Roivainen
Suvi Aalto (Saara's sister)
Setlist
Alive
Bad romance
Everybody wants to rule the world
My bird
Wuthering heights
The winner takes it all
Who you are
You had my heart
Writings on the wall
Bohemian rhapsody
Oh it's so quiet
Je suis malade
Run
Letting go
Can I keep the pictures?
Out of sight, out of mind
Both sides now
Cage bird
Varpaisillaan
Let it go
Chandelier
Con te partirò
Diamonds are forever & Diamonds are a girl's best friend
River deep, mountain high
(Saara's new song)
No more tears (enough is enough)
No fear