Slogan og logo klar: Lissabon 2018 tager udgangspunkt i havets diversitet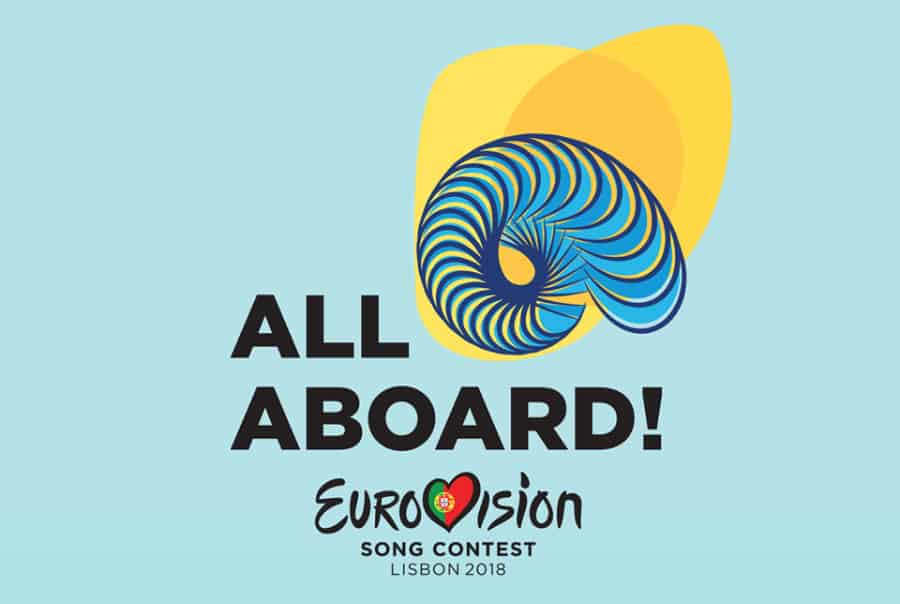 42 lande er med når den 63. udgave af Eurovision Song Contest løber af stablen næste år til maj. Det er første gang i historien, at Portugal skal være vært på konkurrencen, som afvikles hhv. den 8., 10., og 12. maj 2018.
I dag afslørede RTP og EBU både slogan og logo for næste års konkurrence. Når vi drager mod Lissabon så bliver det under sloganet "All Aboard!" og med et helt nyt logo, som kommer i 12 varianter. Både slogan og logo er en del af et større kreativt tema med havet som tema. Det er diversiteten i havene og Lissabons historie som centrum for mange af verdens vigtige søveje, der har dannet grundlag for valget at tema.
Through the ocean, we as citizens of Europe and the world are connected.

Under the motto "All Aboard!" the theme invites everyone to celebrate Europe and music.
Hoved-logoet, som illustrerer en muslingeskal kommer i 12 andre varianter, som bygger på konceptet omkring det varierende liv i havene og afbilleder havets vidundre, såsom plankton og andre organismer, som er essentielle for balancen i vandets økosystemer. Gennem alle disse logoer udtrykkes nøgletemaerne diversitet, respekt og tolerance. Logoerne vil blive kreativt tilpasset og anvendt på forskellige måder både op til og under eventet i Lissabon.
For centuries, Portugal explored the world by sea. Today, Lisbon is more and more the city of all colours, a great harbour of cultures and sounds that welcomes you all to come aboard!, siger Gonçalo Madaíl, som er kreativt leder for RTP.
42 lande deltager i Eurovision Song Contest 2018
De følgende lande (og EBU-medlemmer) vil deltage i Eurovision Song Contest 2018:
Albania (RTSH)
Armenia (AMPTV)
Australia (SBS)
Austria (ORF)
Azerbaijan (ICTIMAI TV)
Belarus (BTRC)
Belgium (VRT)
Bulgaria (BNT)
Croatia (HRT)
Cyprus (CYBC)
Czech Republic (CT)
Denmark (DR)
Estonia (ERR)
Finland (YLE)
France (FT)
Germany (ARD/NDR)
Georgia (GPB)
Greece (ERT)
Hungary (MTVA)
Iceland (RUV)
Ireland (RTE)
Israel (IPBC/KAN)
Italy (RAI)
Latvia (LTV)
Lithuania (LRT)
Malta (PBS)
Moldova (TRM)
Montenegro (RTCG)
The Netherlands (AVROTROS)
Norway (NRK)
Poland (TVP)
Portugal (RTP)
Romania (TVR)
Russia (C1R)
San Marino (RTV)
Serbia (RTS)
Slovenia (RTVSLO)
Spain (TVE)
Sweden (SVT)
Switzerland (SRG/SSR)
Ukraine (UA:PBC)
United Kingdom (BBC)