Eurovision expert Graham Soult reviews Semi 2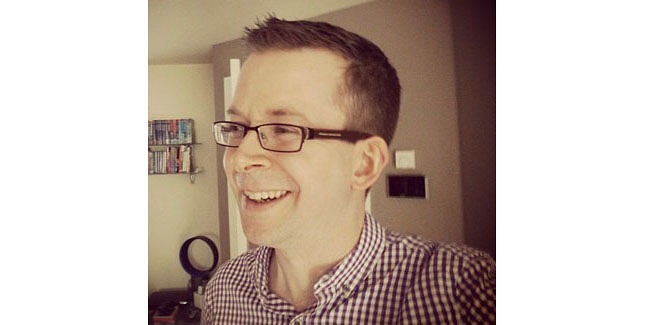 Eurovision expert Graham Soult reviews this year's entries: Semi Final 2
1. PeR – Here We Go (Latvia) 
From Kølig Kaj to Daz Sampson, rapping has always performed patchily at Eurovision – and, unfortunately for Latvia, 'Here We Go' seems unlikely to change that record.
The song is a bit odd – it's rather as if someone came up with an annoyingly catchy chorus but then lacked the energy to think up any verses. Though it gets Semi Final 2 off to a suitably breezy start, it all makes for a rather long three minutes. Not dreadful, but surely not a qualifier.
2. Valentina Monetta – Crisalide (San Marino)
After the horror that was 2012's 'Social Network Song', the lovely Valentina gets a chance to show what she can really do with 'Crisalide', representing San Marino for the second year in a row.
Just as it's hard to believe that both songs were written by the same composer – Eurovision legend Ralph Siegel – the transformation in Valentina is astonishing. After being saddled last year with a song intended for another artist, 'Crisalide' was written expressly for Valentina, and it shows.
The song is fabulous: benefiting from being performed in Italian, it starts as an emotional ballad before morphing into an uptempo anthem – complete with two key changes – partway through. Meanwhile, Valentina gets to show off what an immensely talented singer she is, with a powerful voice that oozes emotion. No wonder that the song has immediately cemented itself as a fan favourite.
The danger, of course, is that upbeat fan favourites – from Xandee to Kate Ryan and Kati Wolf – have a habit of falling flat at Eurovision, often thanks to slightly ropey vocals. However, Valentina's live performances of the song to date have been impressive, and it will be a travesty if San Marino isn't near the top of the Semi Final 2 scoreboard. Indeed, if she can nail that final high note, SMTV might even need to find a site in Dogana for its own version of Baku's Crystal Hall.
Hopefully a strong performance for San Marino will also entice Andorra and Monaco back to Eurovision, proving that a microstate with few obvious friends or neighbours can still qualify for the Final if only it sends a great song.
3. Esma & Lozano – Pred Da Se Razdeni (F.Y.R. Macedonia) 
Macedonia has 'done a Belarus' this year, replacing Esma & Lozana's original chosen song – the rousing 'Empirija' – with the arguably less impressive 'Pred Da Se Razdeni'.
While the sentiment and imagery of 'Empirija' wasn't to everyone's taste, the song at least managed to showcase both Esma & Lozana's ample talents equally. 'Pred Da Se Razdeni', in contrast, is a bit odd. The geekily handsome Lozano gets to show off his strong voice while Esma is fabulous but underused, relegated to strutting and wailing in the background.
In the end, the effect is all rather disjointed – like two different songs crunched together – and I fear that the Macedonians may have a job on their hands to qualify.
4. Farid Mammadov – Hold Me (Azerbaijan) 
Lots of people seem to like the Azerbaijani entry, but I'm not entirely convinced. It's certainly a highly competent vocal from the handsome Farid, and a pleasant song, but something's missing. Maybe it's all a bit ex-USSR Eurovision ballad by numbers? Whatever, it leaves me a bit cold, I'm afraid.
For all that, it's hard to see Azerbaijan not qualifying. The country's record at Eurovision to date is superb – a top ten placing in the Final on each of its five appearances – while Farid's looks will do him no harm at all. Given his impressive chest, I'll be amazed if he keeps his shirt on for the whole performance.
5. Krista Siegfrids – Marry Me (Finland) 
The Finnish entry is a hard one to judge – it's nowhere in the betting, yet many Eurovision watchers speak highly of it.
There's no doubt that 'Marry Me' is witty, clever and warmhearted, as well as contemporary and chart friendly in a Katy Perry-esque kind of way. I can't say I'm a particular fan of the song, but Krista's infectious enthusiasm, and the fact that there's nothing else like it in this year's Eurovision, gives it a good chance of making it through to Saturday.
6. Gianluca Bezzina – Tomorrow (Malta) 
Competing with Lithuania's Andrius for the prize for Eurovision 2013's best eyebrows, cheeky chappy Gianluca is a bit like a Maltese Olly Murs. As for the song, 'Tomorrow' is sweet and likeable, tells a cute story within its three minutes, and is probably Malta's strongest entry since Chiara's 'Angel' in 2005.
Though perhaps not a song I'd choose to play on repeat, 'Tomorrow' is easily charming and quirky enough to qualify for the Final, and I suspect it will.
7. Elitsa & Stoyan – Samo Shampioni (Bulgaria) 
It's never good when a previous Eurovision act comes back with a song that's weaker than their original one (q.v. Jedward and Dana International), but I fear that's the case with Elitsa & Stoyan.
Don't get me wrong, 'Samo Shampioni' is infectious and appealing, but I'm not sure it has the dramatic impact of 2007's 'Water' – the only one of Bulgaria's eight entries so far to make it out of a Semi Final. Surpassing the excellent 5th place achieved by Elitsa & Stoyan's previous effort seems unlikely indeed, and even making it to Saturday may be a challenge given the strong and diverse competition.
8. Eyþór Ingi Gunnlaugsson – Ég á Líf (Iceland) 
Languishing in the betting, and somewhat overshadowed by Semi Final 2's showier contenders, it's easy to overlook this year's Icelandic entry. That would be a shame, however, because 'Ég á Líf' is really rather lovely.
A beautiful ballad with a vaguely Celtic feel, the song begins delicately and builds to an anthemic finish, sounding like something Gary Barlow might have written in the late-1990s. The fact that the song is performed in Icelandic – the first Iceland entry since 1997 to do so – is also refreshing, and does it no harm at all.
Keep an eye on this one – I reckon it could be this year's 'Kuula', mopping up jury votes and performing much better than many people expect.
9. Koza Mostra & Agathon Iakovidis – Alcohol Is Free (Greece) 
Blatantly silly, but not without charm, this year's Greek entry sounds a bit like what you might get if Madness and Zdob şi Zdub were jamming together. It's manic and repetitive, yet annoyingly likeable.
Will it qualify? Quite possibly. Every Eurovision needs a few lighter moments, and in a year packed with earnest ballads 'Alcohol is Free' certainly stands out.
10. Moran Mazor – Rak Bishvilo (Israel) 
On that subject of earnest ballads… with its mournful yet dramatic feel, and mid-song key change, some have called 'Rak Bishvilo' Israel's 'Molitva'. It's easy to see why – the song's a builder, while striking Moran is a very strong singer who gives it her all throughout.
For me, however, the song doesn't quite fulfil its early promise – it's packed with emotion, for sure, but maybe lacking the ultimate memorability factor. That's something that can't be said of Moran's black dress at the Israeli Kdam selection show – surely a wardrobe malfunction waiting to happen in the event that it makes a reappearance in Malmö. Overall, a borderline qualifier at best for me.
11. Dorians – Lonely Planet (Armenia) 
I'm rarely a fan of Eurovision songs that namecheck the planet or environment, usually because – from the UK's Emma and Samantha Janus to Monaco's Maryon – those entries have been terrible.
It would be unfair to compare rock band Dorians' 'Lonely Planet' to those clunkers, but it's not an entirely satisfying three minutes. The Ed Sheeran-esque verses offer promise, and the song's finish is strong, but the chorus is strangely uninspiring and particularly lets itself down with the awkward rhyming of 'planet' and 'done it'.
Like its neighbours Azerbaijan and Georgia, Armenia has an excellent record at Eurovision – securing a top ten placing in the Final on five of its six appearances to date – but I think Dorians may follow in the footsteps of 2011's Emmy by missing out on qualification to Saturday's show.
12. ByeAlex – Kedvesem (Zoohacker Remix) (Hungary) 
Simple, quirky and charming, 'Kedvesem' stands out as being different to anything else in this year's contest, and is the first entry entirely in the beautiful Hungarian language since 2005's 'Forogj Világ' from NOX.
Does Alex's delicate performance have sufficient memorability and broad appeal to make it through to Saturday? I'm not certain, but if Eurovision is a song contest then it surely deserves to.
13. Margaret Berger – I Feed You My Love (Norway) 
Of the top seven contenders in the current Eurovision betting, only one – Norway's 'I Feed You My Love' – is from the second Semi Final. Indeed, though she's performing in 13th, I suspect this position won't prove at all unlucky for the striking and talented Margaret.
The song has much to commend it. It's very modern, has a dramatic and anthemic chorus based around the unusual and memorable 'I Feed You My Love' line, but is performed simply and without gimmicks. All this ensures that the focus in on Margaret, who wore a stunning, skin-tight white dress when she won the Norwegian pre-selection for Eurovision.
Like San Marino, this is another fan favourite – which can be a poisoned chalice – but it's hard to see it not having similar appeal to the Eurovision juries and televoters. A definite qualifier, and probably Semi Final 2's best chance of a Eurovision winner.
14. Adrian Lulgjuraj & Bledar Sejko – Identitet (Albania) 
If viewers are feeling hypnotised after the entrancing Hungarian entry and the mesmerising Norwegian performance, Albania's duo of Adrian Lulgjuraj and Bledar Sejko will certainly break them out of it.
'Identitet' is a rousing rock song, performed in Albanian, that makes much more impact in my view than the earlier Armenian entry – partly because we're not distracted by any clunky English lyrics. It's a strong entry, performed late in the running order, and my money would be on this sneaking through to Saturday.
15. Nodi Tatishvili & Sophie Gelovani – Waterfall (Georgia) 
If Eurovision voters are in the mood for a dramatic ballad this year then they need look no further than the Georgian entry, 'Waterfall', which is dramatic with knobs on. Certainly, Georgia seems to be going all out to win in Malmö, drafting in the composing services of Thomas G:son, the Swede responsible for last year's Eurovision winner, 'Euphoria'.
In a "state of blees" and flying like they had "weengs", the handsome couple of Nodi and Sophie throw the kitchen sink at this performance, which is heartfelt, overwrought and OTT, yet somehow works. It helps that the chorus is very strong indeed, and that the song features this year's best key change. Definitely a qualifier, and probably a top-five contender in the Final too.
16. Takasa – You and Me (Switzerland) 
The trouble of the Swiss selecting their entry so early is that Eurovision fans have been listening to it for six months already; most viewers, of course, won't have that problem.
The Swiss entry has had quite a journey since it was chosen back in December, though. Comprised of six Salvation Army soldiers, the band Takasa has already had to change its name from Heilsarmee – meaning 'Salvation Army' in German – due to the EBU rules that forbid any political or religious statements at Eurovision. For the same reason, the Salvation Army uniforms have also had to go.
None of this detracts from the fact that 'You and Me' is a catchy, anthemic and appealing rock ballad, though the rationale behind the group – featuring an eclectic mix of performers aged 21 to 95 – does get a bit lost without the Salvation Army reference to explain it.
Live performances I've seen so far have lacked some of the polish of the studio version, and while I'd like to see this in the Final on Saturday, I suspect it may fall short.
17. Cesar – It's My Life (Romania) 
On to the final song of Semi Final 2, and it's certainly worth the wait. Eurovision doesn't have much history of songs that combine opera and techno – perhaps for good reason – but Romania's hoping that the unusual blend will send the lovely and undoubtedly talented Cesar through to Saturday.
Shimmying around the stage in a sparkly suit, and making facial contortions like he's swallowed a bee, Cesar undoubtedly has a unique and astonishing voice in the right context. Whether that talent works in the midst of 'It's My Life' I'm not so sure.
It's clear that Romania is taking its entry deadly seriously, yet the whole performance – from Cesar's pained expressions to the ridiculous dancers in the background – is unintentionally comedic. Viewers will certainly remember the Romanian entry, but I suspect it may not be for the right reasons.
Where Semi Final 1 has several near-certain qualifiers – and quite a few contenders to win the whole thing – Semi Final 2 is rather more complex. Few songs leap out, yet there aren't many that can be written off either. Instead, it's a really rich and eclectic mix of genres, where the preferred choices of the juries and televoters are difficult to predict.
Starting, as before, with the songs that will definitely make it through to Saturday (in approximate order of certainty) we end up with a fairly short list:
In turn, there aren't many that can definitely be dismissed – perhaps only Latvia – but I'm going to suggest that the bottom of the scoreboard may look something like this:
This means that the rest of the qualifiers would be:
It's really all to play for in this Semi Final, however, and much will depend on the quality and appeal of the performances on the night. Don't be surprised if there are some surprises!