Live fra Copenhagen Pride: 'Under The Rainbow'-koncert med Sada Vidoo og Bryan Rice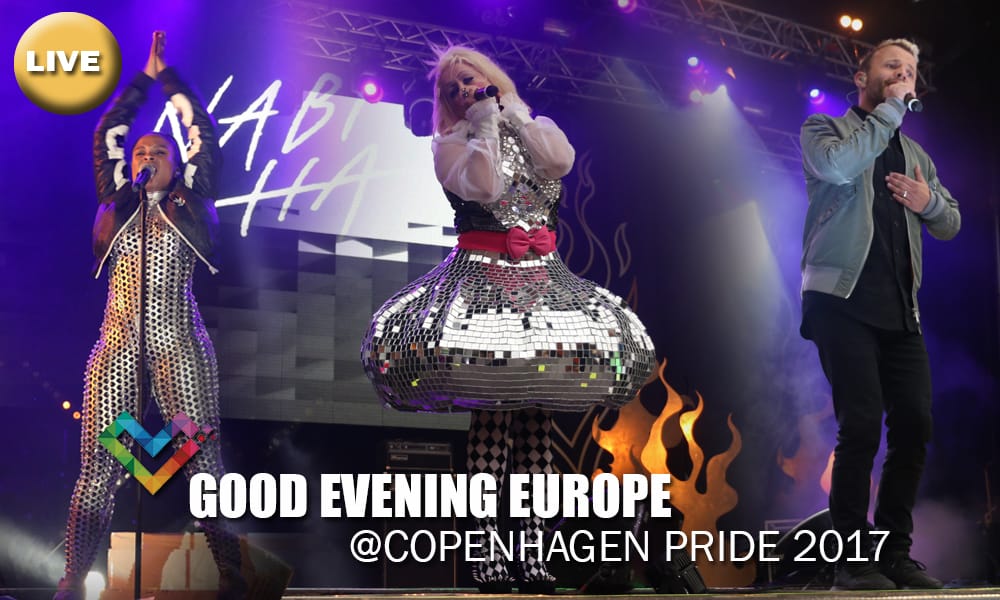 Et regnbueglaseret overflødighedshorn  af lækker musik. Sådan lød optakten til koncerten 'Under the Rainbow', som i torsdags blev afviklet på Rådhuspladsen i København under Copenhagen Pride Week  – og koncerten levede til fulde levede op til beskrivelsen.
Singer-songwriter og musiker Karen Sangvin (Ankerdatter) var vært, da Copenhagen Pride torsdag under Copenhagen Pride Week bød på musikalsk underholdning ved en perlerække af både etablerede og up-and-coming artister. Hovednavnet var den danske sangerinde og 'Danmark har Talent'-dommer Nabiha, som begejstrede publikum med store hits som "Ask Yourself" og "Warrior".
Set med (mine) Grand Prix-briller på så var aftenens højdepunkter den 5-dobbelte Melodi Grand Prix-deltager- og sangskriver Bryan Rice og naturligvis årets Melodi Grand Prix-deltager Sada Vidoo.
Sada Vidoo gav os, sammen med sine to dygtige dansere Harley Queen og Di di Cancerella, en fantastisk start på aftenens koncert og bød bl.a. på hits som "China Doll", ABBA's "The Winner Takes It All", "Love is a Battlefield", som hun sang i X Factor, hendes nye single "Iconic", som udkommer til september og ikke mindst Melodi Grand Prix-hittet "Northern Light".
Bryan Rice fik publikum til at synge med på bl.a. klassikeren "No Promises" og Grand Prix-hittet "Breathing. Han præsenterede desuden sin splinternye single "Tell it to my body" fra den kommende EP Bryan Pt. 2.
Læs også: Interview med Bryan Rice: "Nogle gange vil hjernen og hjertet noget andet, end kroppen vil"
På scenen var desuden de nyligt kårede Karriere Kanonen-vindere Rest in Beats, danske Royal Feet Factory og den israelske duo Shelly & Rotem.
Kom med til koncert på Rådhus Pladsen i vores billede- og videogalleri herunder:
Opdateret 15.09.17 med hele videogalleriet fra "Under The Rainbow".